A Strategy to Overcome Great Pressure for Graduates Employment in China
Keywords:
Employment - Economic system – Graduates - Curriculum reform - Innovation
Abstract
The great employment pressure on Chinese graduates is rooted in a variety of factors:
the imbalances of supply and demand in the labor market, problems of unreasonable setting in the curriculum system leading to structural unemployment, as well as graduate's wishes regarding jobs. It is necessary for the government and universities to innovate the systems of the enrollment, curriculum and employment, in order to solve graduates' employment difficulties
Downloads
Download data is not yet available.
References
Liu Yan, Li Shumin (2008) The college students' employment structural contradictions analysis [J]. Taiyuan. Journal
of University of science and technology: Social Science Edition. (2):27.
Blau P (1977) Inequality and heterogeneity of [M]. Wang Chunguang et al. translation. Beijing: Chinese Social Science
Publishing House, 1977: 97, 120
Zhou Zuoyu (2001) Education, social stratification and social mobility [J]. Journal of Beijing Normal University:
Social Science Edition, 2001 (5): 86-87.
Xia Shiwu (2012) Employment policies on college graduates China value changes [J]. Journal of National Academy
of education administration, 2012 (1): 48-52.
Fan, Ding (2011) Research on employment alarming system construction of college graduates[C].// International
Conference on E-Business and E-Government. [v.1.A].2011:1-3.
Anderson EG Jr (2001) Managing the impact of high market growth and learning on knowledge worker productivity
and service quality[J].European Journal of Operational Research, ,134(3):508-524.DOI:10.1016/S0377-
(00)00273-3.
Clarke L, Herrmann G (2007) Skill shortages, recruitment and retention in the house building sector[J].Personnel
Review,,36(4):509-527.DOI:10.1108/00483480710752777.
Guo Hanyu,Yan Xiujuan,Hu Jianfeng et al.A Research on the Enhancing Vocational College Students' Employment
Stability by "7P" Orders Education Mode[C].//Advanced Materials and Information Technology Processing. Part
2011:1218-1222.
Websites
Documents of the Ministry of Education [EB/OL].From the website: http://www.moe.edu.cn/
China Education Online:
http://career.eol.cn/kuai_xun_4343/20131210/t20131210_1050496.shtml
http://edu.people.com.cn/h/2011/1209/c227696-1417397299.html.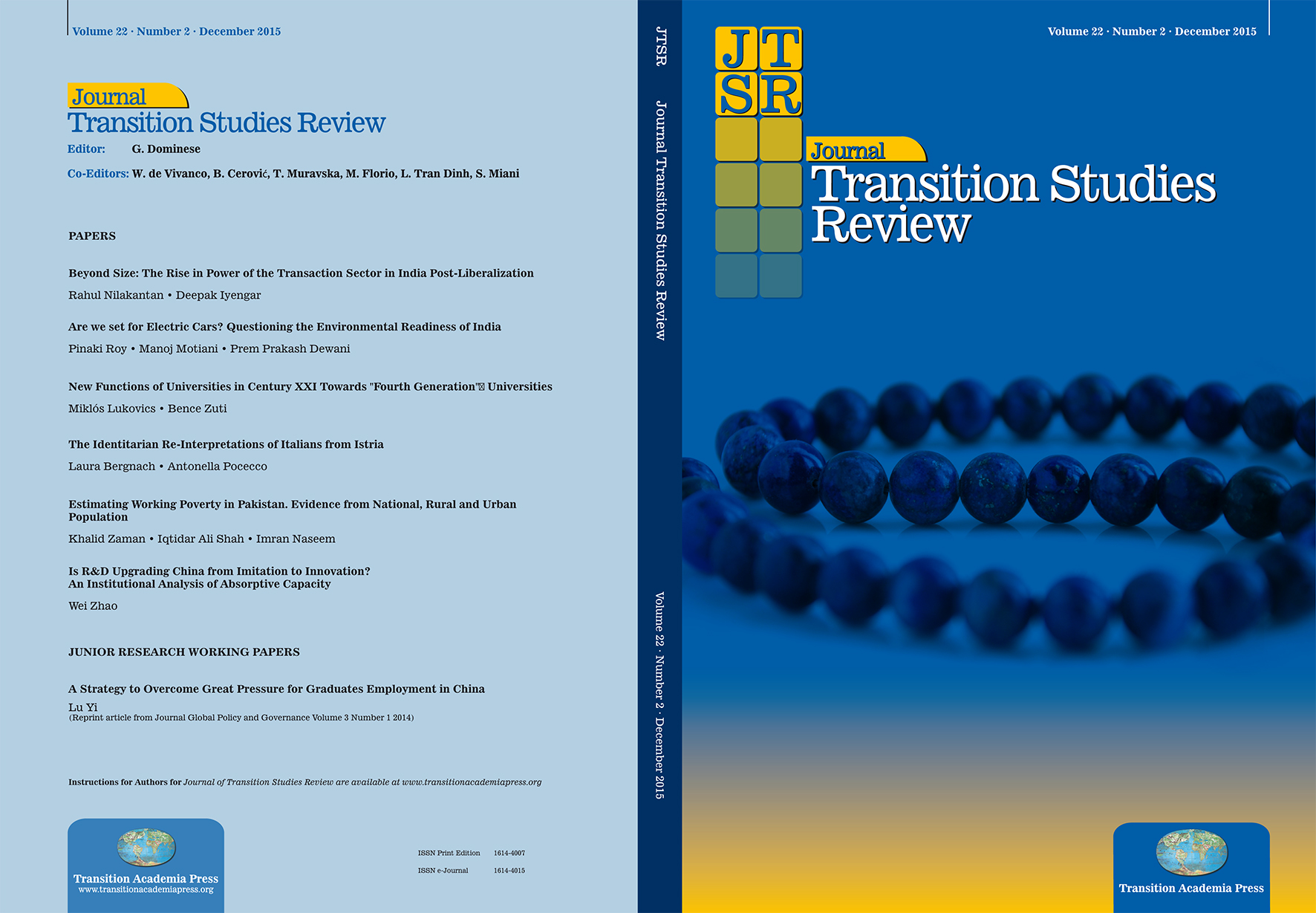 How to Cite
Yi, L. (2015). A Strategy to Overcome Great Pressure for Graduates Employment in China. Journal Transition Studies Review, 22(2), 109-115. Retrieved from https://transitionacademiapress.org/jtsr/article/view/84
The author gives permission to Transition Academia Press to publish the article in print and/or electronic format.
If/when an article is accepted for publication, Author will be asked to transfer copyright of the article to Transition Academia Press. Transition Academia Press will retain copyright of all published material and reserves the right to re-use any such material in any print and/or electronic format. Author willing to retain their copyright from the Editors might request a fair condition, on the base of a bilateral agreement.