A Study on Work Attitudes of Japanese Employees from the Perspective of Decent Work
Keywords:
Decent work, Work attitudes, Job satisfaction, Job involvement, Employability, Career plan, OJT, Off-JT, HRM, Japanese companies
Abstract
The study analyses work attitudes of Japanese employees from the perspective of decent work. A survey was conducted in respect of Japanese employees working in engineering and retailing companies. In the study the following questions are asked: What determinants make Japanese employees feel their work to be decent work? What are the consequences for Japanese employees and companies, if decent work is actualized ? Currently, decent work is the key concept in respect of the activities of the International Labour Organization (ILO). In this study, decent work is defined as work of high quality, in which employees feel a sense of achievement, enjoy communication with colleagues and have support for work-life balance. The study clarifies the predictors and outcomes of decent work satisfaction for employees. From the results of multiple regression analysis, employability through off the job training (Off-JT) and on the job training (OJT) opportunities are important predictors satisfying decent work. The variable of the industry also contributes to decent work satisfaction for them. Additionally, high decent work satisfaction could lead to high job involvement for them. Finally, the study suggests effective Human Resource Management (HRM) proposals for Japanese companies from the perspective of decent work.
References
Futagami S (2010) Non-standard employment in Japan: Gender dimensions, International Institute for Labour Studies (IILS), International Labour Organization (ILO), 200, pp. 1-21.
Futagami S (2014a) Comparative study on employment and human resource development between Japan and Europe, Research on Work Competency, No. 2, pp. 123-148 (in Japanese)
Futagami S (2014b) Working women in Japan: Future trends and possibilities, presented at WIN conference, Tokyo. Futagami S, Helms MM (2009a) Emerging female entrepreneurship in Japan: A case study of Digimom Workers, Thunderbird International Business Review, Vol. 51, No. 1, pp. 71-85.
Futagami S, Helms MM (2009b) Entrepreneurs: Challenging perceptions, Japan Inc, 13- 15.
Futagami S, Backes-Gellner U, Pull K (2010) Stand und aktuelle Herausforderungen des japanischen Hochschulsystems Hochschulmanagement, Heft 1, SS. 21-24.
Futagami S et al. (2014) Differences in Initial Training and Wages of Japanese Engineering and Retailing Companies: Who Pays for Higher Training Costs? International Journal of Management Research and Business Strategy, Vol. 3, Issue 1, pp. 61-76.
Futagami S, Muramoto Y (2016) Work competency development and career plan of employees: A comparative analysis between Japanese and Swiss companies, Society for Research on Work Competency: The 9th Annual Conference.
Futagami S, Helms MM (2017a) Can Women Avoid the Rice Paper Ceiling? A SWOT Analysis of Entrepreneurship in Japan, SAM Advanced Management Journal, Vol. 82, No. 2, pp. 40-52.
Futagami S, Helms MM (2017b) Employment Challenges in Japan: Age and Gender Dimensions, Japan Studies Review, Vol. XXI, pp. 51-67.
Ghai D (2002) Decent work: Concepts, models and indicators, Discussion Paper No. 139, International Institute for Labor Studies (IILS), International Labor Office (ILO).
Ghai D (2003) Decent work: Concept and indicators, International Labor Review, Vol. 142, No. 2, pp. 113-145. Ghai D (2005) Decent work: Universality and diversity, Discussion Paper No. 159, International Institute for Labor Studies (IILS), International Labor Office (ILO).
Ghai D (2006) Decent work: Objectives and strategies, International Labor Office (ILO).
Guest D (2002) Human resource management, corporate performance and employee wellbeing: Building the worker into HRM, Journal of Industrial Relations, 44, pp. 335-358.
Lodahl TM, Kejner M (1965) The definition and measurement of job involvement, Journal of Applied Psychology, 49, pp. 24-33.
Weiss DJ, Dawis RV, England GW, Lofquist LH (1967) Manual for the Minnesota Satisfaction Questionnaire: Minnesota Studies in Vocational Rehabilitation XXII, University of Minnesota.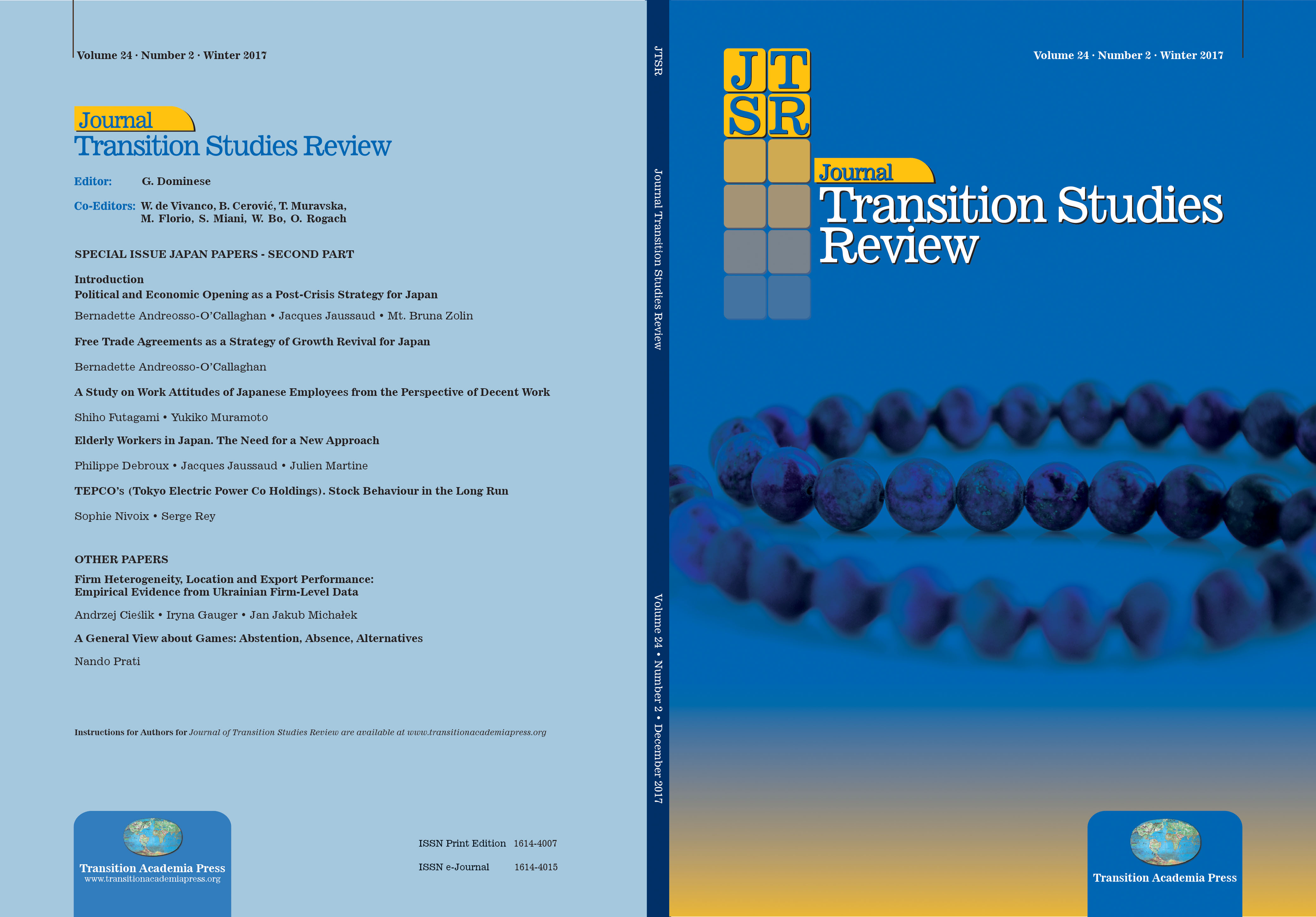 Section
Special Issue Japan
The author gives permission to Transition Academia Press to publish the article in print and/or electronic format.
If/when an article is accepted for publication, Author will be asked to transfer copyright of the article to Transition Academia Press. Transition Academia Press will retain copyright of all published material and reserves the right to re-use any such material in any print and/or electronic format. Author willing to retain their copyright from the Editors might request a fair condition, on the base of a bilateral agreement.