The "Impossible Trinity" in Monetary Policy of Armenia
Keywords:
Exchange rate, Monetary policy, "Impossible Trinity"/ "The Mundell-Fleming Trilemma", Economic growth, Emerging economies, Inflation targeting
Abstract
This article reviews some of the key aspects of exchange rate and monetary policy choices with reference to developing countries. It analyses also the "the impossible trinity" in theory and practice of emerging markets, its specificity in the monetary policy of Armenia. The study finds that the floating exchange rate is optimal when combined with an active monetary policy in the case of emerging economies. Also the results suggest the necessity of a changing of orientation of the monetary policy of Armenia: it must contribute to economic growth rather than to be the means of a fight against inflation. The policy of maintaining a low level of inflation, aimed at squeezing the money supply and credit, impedes economic growth, export expansion and makes the system less resistant to external shocks. Then what monetary and exchange rate policy should follow Armenia in today's realities, taking into account the integration processes within the framework of EAEC? Just to these problems this article is devoted.
Downloads
Download data is not yet available.
References
Aizenman J, Chinn M, Ito H (2008) Assessing the Emerging Global Financial Architecture: Measuring the Trilemma's Configuration over Time. NBER Working Paper No. 14533, Cambridge, Mass., pp.1-98.
Aizenman J, Hutchison M, Noy I (2011) Inflation Targeting and Real Exchange Rates in Emerging Markets. World Development, Vol. 39, No. 5, pp. 712–724.
Broda Ch (2001) Coping with Terms of Trade Shocks: Pegs versus Floats, in Alberto Alesiana and Robert J. Barro, eds., Currency Unions, Stanford, Calif, Hoover Institution Press, pp. 49-56.
Calvo G, Reinhart C (2001) Fear of Floating. National Bureau of Economic Research, Working Paper No.7993, Cambridge, Mass., pp. 1-57.
Chang R, Velasco A (2000c) Financial Fragility and the Exchange Rate Regime. Journal of Economic Theory, 92, pp. 1-34.
Dabrowski M (2016) Currency crises in post-Soviet economies - a never ending story? Russian Journal of Economics, Vol. 2, No. 3, pp. 302-326.
de Gregorio J (2010) Monetary Policy and Financial Stability: An Emerging Markets Perspective. International Finance, Vol 13, No.1, pp.141–156.
Disyatat P, Galati G (2005) The Effectiveness of Foreign Exchange Intervention in Emerging Market Countries. BIS Paper No. 24, pp. 97–113.
Knobel A, Mironov А (2015) Assessment of CIS countries readiness for the creation of a currency union. Zhurnal Novoy Ekonomicheskoy Assotsiatsii, No. 1, pp. 76-101. (In Russian).
Larrain B. F. (2001) Exchange-rate policy in emerging- market economies: the case for floating. Essays in international economics, Princeton N.J. no.224, pp.50.
Ostry G, Chamon S (2012) Two Targets, Two Instruments: Monetary and Exchange Rate Policies in Emerging Market Economie. IMF Working Paper No 3564, pp.1-67.
Sandoyan Ed (2017) The Prospects of Currency Regulation Policy Alternative Approaches in Armenia. Herald of Financial University, Vol. 21, N. 1, pp. 87-90.
Sandoyan Ed, Voskanyan M (2017) Currency Regulation in the Republic of Armenia: Problems and Prospects. The Materials of Scientific Seminar, Publication of RAU, pp.1-44.
Svensson L (2000) Open-Economy Inflation Targeting. Journal of International Economics, 50, pp. 155-183.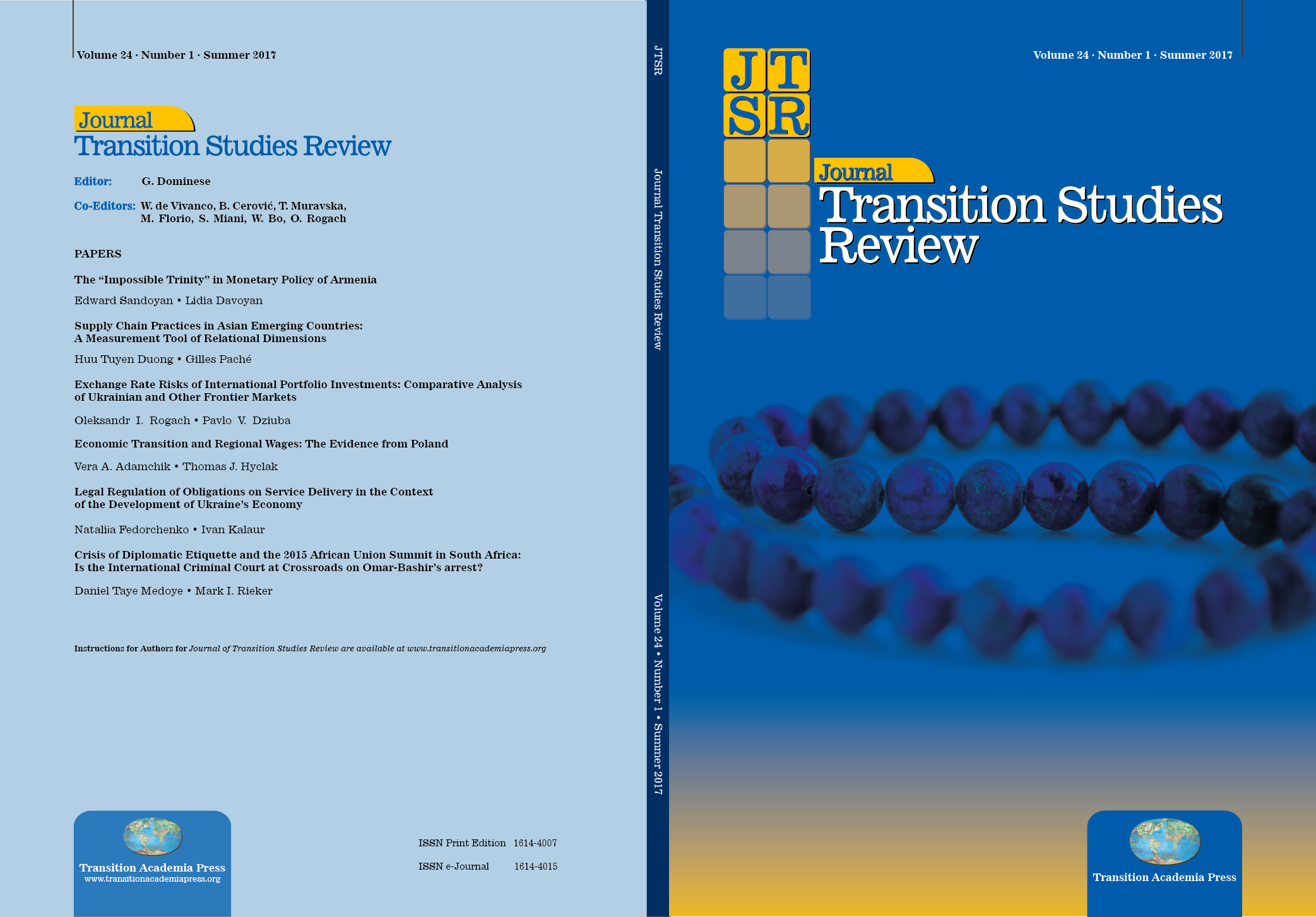 How to Cite
Sandoyan, E., & Davoyan, L. (2017). The "Impossible Trinity" in Monetary Policy of Armenia. Journal Transition Studies Review, 24(1), 3-14. https://doi.org/10.14665/1614-4007-24-1-001
The author gives permission to Transition Academia Press to publish the article in print and/or electronic format.
If/when an article is accepted for publication, Author will be asked to transfer copyright of the article to Transition Academia Press. Transition Academia Press will retain copyright of all published material and reserves the right to re-use any such material in any print and/or electronic format. Author willing to retain their copyright from the Editors might request a fair condition, on the base of a bilateral agreement.