Lake Sevan: Environmental Story
Keywords:
Armenia, Aquaculture, Biodiversity, Ecology, Endangered species Environment, Environmental impact, Environmental regulation Eutrophication, Fishery, Irrigation, Lake Sevan, Natural resource Pollution, Water, Sewage
Abstract
Lake Sevan is the largest freshwater lake in Armenia, the largest lake in Trans-Caucasus and one of the largest freshwater lakes in Eurasia. Only one river flows out from the lake, Hrazdan River, which flows toward the Ararat Valley (one of the important croplands in Armenia) and is one of the sources of irrigation for the cropland. But since 1930s, because of lack of energy in the country, Sevan-Hrazdan hydropower cascade was built which was used to generate energy and also was a source of irrigation for the Ararat Valley, which was located in a lower attitude than the lake. Because this water outflow from Lake Sevan had increased dramatically, it lead not only to environmental problems, but also to a loss of cultural value. The bad ecological condition of the lake had influence on the economy of Armenia.
As a consequence several steps and policies were undertaken with a purpose to stabilize the environmental condition of Lake Sevan, and one of the steps was the construction of tge Arpa- Sevan tunnel in 1982, which increased the inflow of water into the lake.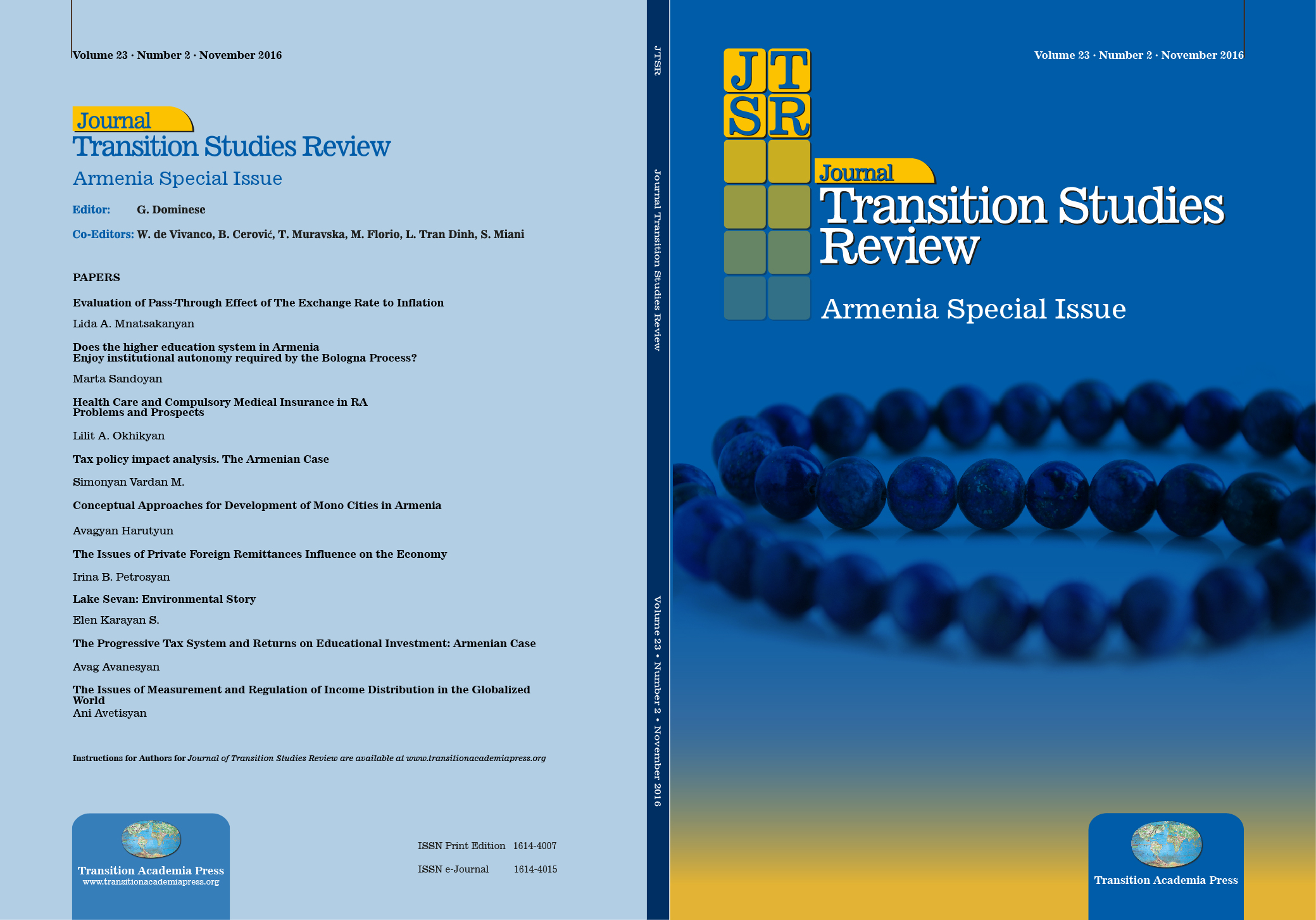 The author gives permission to Transition Academia Press to publish the article in print and/or electronic format.
If/when an article is accepted for publication, Author will be asked to transfer copyright of the article to Transition Academia Press. Transition Academia Press will retain copyright of all published material and reserves the right to re-use any such material in any print and/or electronic format. Author willing to retain their copyright from the Editors might request a fair condition, on the base of a bilateral agreement.