Modern Globalization Peculiarities and Its Impact on Ukraine
Keywords:
globalization, digital economy, foreign direct investment, trade balance, integration
Abstract
Nowadays, there is a great impact of economic globalization on countries' development, especially in the term of IT wide spreading throughout the world. The paper investigates current globalization peculiarities and its impact on the economy of Ukraine.
Digital technologies bring new opportunities for the growth of national economies and its global competitiveness. Under the influence of globalization, the global economy is undergoing a dramatic transformation, driven by a new wave of technological innovation, which is now characterized as the fourth industrial revolution. Besides, globalization generates numerous risks to sustainable economic growth. In the context of globalization, many countries become extremely dependent on changes in the structure of international trade. Ukraine with increased openness to the outside world is interested in structural parameters of international exchange.
The paper discusses the problems of Ukrainian economy development and further digital transformation. Current production and export- import structure are revealed in the context of Ukrainian economy simplification to the structural characteristics of partner countries.
References
Borzenko, O., (2019) Structural deformations on the global financial markets after the 1990s., Monograph, Vinnytsia: "TOVORY" LLC, 2019, p. 448.
Borzenko, O., Glazova, A., (2019), Common and different featurtes of digitalization and virtualization of the world financial market, Viewed 10 February 2020 http://visnyk-ekonomics.mdu.in.ua/ARHIV-uk/18/4.pdf
Cairo, L., Titar, K. (2013) Ukraine and modern processes of world economic globalization, viewed 26 December 2019 http://slavutajournal.com.ua/arxiv-nomeriv/slavuta-vipusk-6-2013/ukra%D1%97na-i-suchasni-procesi-svitovo%D1%97-ekonomichno%D1%97-globalizaci%D1%97/
Digital Economy Report, Value Creation and Benefit: Implications for Developing Countries, (2019), Overview /United Nations, UNCTAD. Geneva. Viewed 01 February 2020 https://unctad.org/en/pages/PublicationWebflyer.aspx?publicationid=2466
Global growth continues to be sluggish, (2019), IMF, viewed 27 November 2019 https://www.imf.org/en/Publications/WEO/Issues/2019/07/18/WEOupdateJuly2019
Guterres, A., (2019), Macroeconomic policy issues. External debt sustainability and development, the Secretary-General Summary Report A / 74/234 General Assembly Distr .: General 26 July 2019, C.3.
Kirilov Yu., (2016) The impact of globalization processes on the development of national economies, Effective Economics, Issue 12, 2016, viewed 12 August 2019 http://www.economy.nayka.com.ua/?op=1&z=5297
Korablin, S., (2017), Macroeconomic dynamics of Ukraine: the trap of commodity markets: a monograph; NAS of Ukraine, State Institution «Institute for economics and forecasting", Kyiv, 2017, 308 p.
Movchan, V., (2019), Brake trading: What happened to Ukrainian exports in 2018?, viewed 04 February 2020, https://www.eurointegration.com.ua/articles/2019/03/6/7093612/
Official site of the National Bank of Ukraine (2019) viewed 29 November 2019 http://www.nbu.gov.ua/
Official site of the State Statistics Service of Ukraine (2019) viewed 23 November 2019 http://www.ukrstat.gov.ua/;
Pelo, A., (Glazova, A.) (2013) An innovative aspect of Ukraine's integration development: the European Union and the Customs Union, Culture of the peoples of the Black Sea, Issue 259,2013 PP. 62-66
Slogub: Financiers are worried about the dependence of many economies on the dollar (2019), mind.ua, viewed 04 September 2019 https://mind.ua/news/20201596-sologub-finansistiv-hvilyue-zalezhnist-bagatoh-ekonomik-vid-dolara
State debt of Ukraine; Foreign exchange reserves of Ukraine, MinFin Media, viewed 04 December 2019, https://index.minfin.com.ua/ua/finance/debtgov/; https://index.minfin.com.ua/finance/assets/
The Global Risks Report (2019), 14th Edition/World Economic Forum, Geneva, 2019, 114 р. Viewed 2 February 2020 www.weforum.org
Ukraine slightly lost ground on global innovation index (2019), viewed 14 August 2019 https://www.pravda.com.ua/rus/news/2019/07/25/7221883
Ukraine's place in world ratings over the past five years (2019), viewed 8 April 2019 https://ru.slovoidilo.ua/2019/03/29/infografika/politika/mesto-ukrainy-mirovyx-rejtingax-poslednie-pyat-let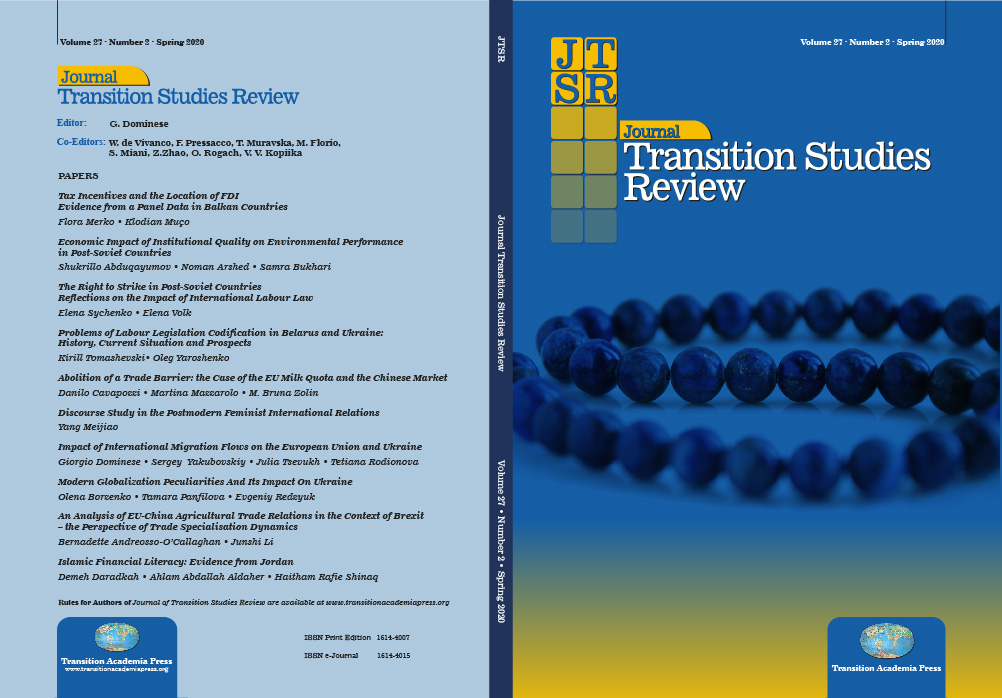 The author gives permission to Transition Academia Press to publish the article in print and/or electronic format.
If/when an article is accepted for publication, Author will be asked to transfer copyright of the article to Transition Academia Press. Transition Academia Press will retain copyright of all published material and reserves the right to re-use any such material in any print and/or electronic format. Author willing to retain their copyright from the Editors might request a fair condition, on the base of a bilateral agreement.