Problems of Labour Legislation Codification in Belarus and Ukraine: History, Current Situation and Prospects
Keywords:
labour code, codification, law, labour relations, reform, draft
Abstract
Taking into account the general historical past (up to the 1990s), the paper examines current issues of codification and improvement of labour legislation in Belarus and Ukraine. The first part of the article briefly analyzes three global reforms of the Labour code of Belarus that took place in 2007-2008, 2014 and 2019-2020. Based on the generalization of legal and technical features of these three reforms, both negative trends in the development of labour law in Belarus and positive features associated with increased flexibility in regulating labour relations were identified. The second part of the paper examines the current situation of labour legislation in Ukraine, its non-compliance with the realities of the market economy. Special attention is paid to the analysis of the draft of law "On labour", submitted by the Government to the Verkhovna Rada of Ukraine in 2019.
References
Krivoy V. I. (1996) Theoretical problems of codification of labour legislation in Belarus: dis. ... d-RA yurid. Sciences: 12.00.05; S.-Peterb. State University. S.-Peterburg (in Russian).
Voitik A. A., Kuryleva O. S., Tomashevski K. L. (2006) Problems of improving the Labour code of the Republic of Belarus: waiting for a global reform / / Russian Yearbook of labour law. No. 2. Pp. 640-656 (in Russian).
Tomashevski Kirill (2008) Reform of labour Legislation in Belarus in 2007-2008 and a Role of Lawyers due to Problem of labour Enforcement // Transition Studies Review. VOLUME 15. ISSUE 3. Pp. 601 – 604. doi: 10.1007/s11300-008-0030-5.
Tomashevski Kirill (2015) The reform of the labour legislation of the Republic of Belarus in 2014-2015 years // QANUN. No. 9. Pp. 66-69.
Vasilevich G. A. et al. (2020) Article-by-Article commentary of the Labour code of the Republic of Belarus / Edited by G. A. Vasilevich. Minsk: Register (in Russian).
Yaroshenko Oleg M., Sliusar Andrey M., Sereda Olena H., Zakrynytska Viktoria O. (2019) Legal relation: theissues of delineation (on the basis of the civil law of Ukraine). The Asian International Journal of Life Sciences. Supplement 21, Number 2, 28 December 2019. Pp. 719-734.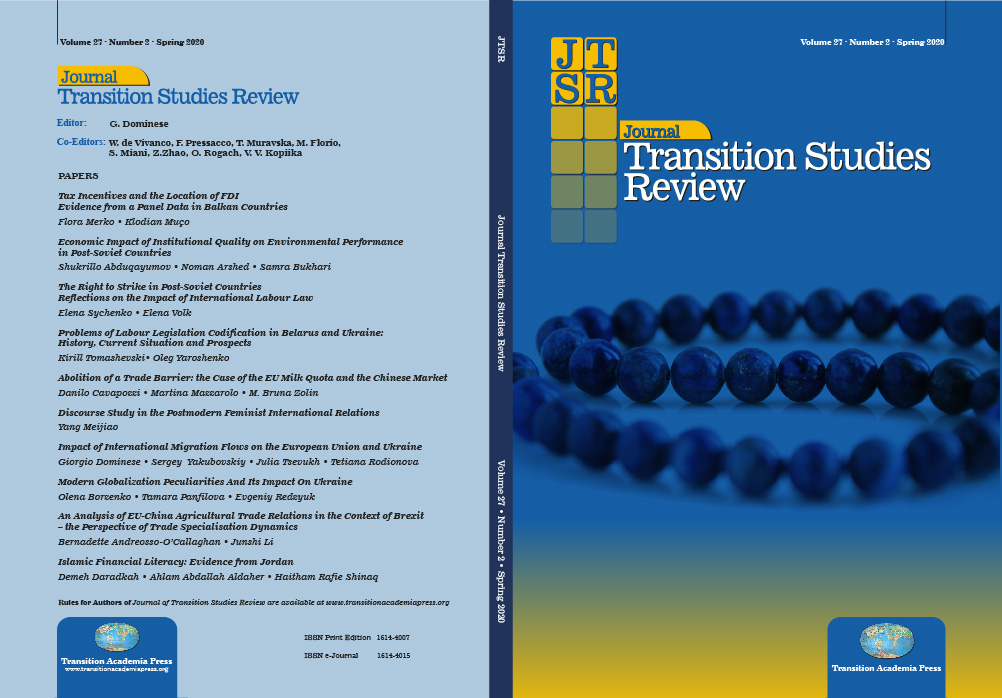 The author gives permission to Transition Academia Press to publish the article in print and/or electronic format.
If/when an article is accepted for publication, Author will be asked to transfer copyright of the article to Transition Academia Press. Transition Academia Press will retain copyright of all published material and reserves the right to re-use any such material in any print and/or electronic format. Author willing to retain their copyright from the Editors might request a fair condition, on the base of a bilateral agreement.