Trans-Pacific Partnerships Agreement Diluting China's Ascendency in Southeast Asian Regionalism?
Keywords:
Free trade area - Trans-Pacific Partnership Agreement - United States of America - China - ASEAN - Southeast Asia
Abstract
Political and economic development over the past 10 years reveal that the
close allies of the United States of America (USA) were unable to "limit" China's
growing domination in the Southeast Asian region. The TPPA that was led by the
US was believed as a counter measure to check China's growing power in Southeast
Asia. This paper attempts to answer (i) what is the motive of the US government
involvement in TPPA, (ii) what the possible implication of TPPA to China, and (iii)
what would happen to China's role in the region.
References
Alavi H, Van Doorn R, Nehru V (2012) Building a Neighbourhood – One Policy at a Time: The
case for deeper economic integration in East Asia', in Engaging East Asian Integration, (eds)
Takashi Shiraishi and Jiro Okamoto, IDE-JETRO and ISEAS, Singapore, page 46-96.
Breslin S (2007) Supplying Demand or Demanding Supply? An Alternative Look at the Forces
Driving East Asian Community Building, Stanley Foundation Policy Analysis Brief, Stanley
Foundation, Washington D.C., November 2007.
Available at http://www.stanleyfoundation.org/resources.cfm?id=268
Breslin S (2013) China and the global order: signalling threat or friendship? International
Affairs, Volume 89 (3): 615-634
Capling A, Ravenhill J (2011) Multilateralising regionalism: what role for the Trans-Pacific
Partnership Agreement? The Pacific Review, 24:5: 553-575
Chye TS (2012) Changing Global Landscape and Enhanced US Engagement with Asia—
Challenges and Emerging Trends, Asia-Pacific Review 19:1: 108-129
Emerson C (2012) APEC Ministers Responsible for Trade Meeting — Session Two: Priorities for
APEC 2012, Speech at APEC 2012 Ministerial Meeting at Kazan Russia. http://trademinister.
gov.au/speeches/Pages/2012/ce_sp_120604a.aspx?ministerid=2.
Farbenbloom S (2012) TPP: The Road to FTAAP, Asia Economic Integration Through Free
Trade: Where Should it Go from here, INSAPS Annual Symposium, Bangkok, June, 19
http://www.insaps.org/portaladmin/uploads/Download/01-simon%20%5BCompatibility%20
Mode%5D.pdf
Feng E (2014) Marching West: Regional Integration in Central Asia, China Hands Journal, Vol.2
, Issue I. http://www.chinahandsmagazine.com/politics--diplomacy/marching-west-regionalintegration-
in-central-asia.
Fergusson IF, Vaughn B (2009) The Trans-pacific Strategic Economic Partnership Agreement,
Congressional Research Service, Paper No. R40502, Washington DC, December
Lee K (2014) Making sense of China's Asia-Pacific FTA agenda, The Sun, page 17.
Lu G (2013) China (Yunnan) – GMS Economic Cooperation: New Development and New
Problems, in Greater Mekong Subregion. From Geographical to Socio-economic Integration,
(eds) Omkar L. Shresta, and Aekapol Chongvilaivan, Institute of Southeast Asian Studies
(ISEAS), Singapore, pp 103-118
Gardner D (2011) The Age of America ends in 2016: IMF predicts the year China's economy
will surpass US, The Dailymail, April 26
http://www.dailymail.co.uk/news/article-1380486/The-Age-America-ends-2016-IMF-predictsyear-
Chinas-economy-surpass-US.html#ixzz317AuW3K3, accessed on 8 May2014.
Yang J (2010) Response and responsibility: China in East Asian financial cooperation, The
Pacific Review, 23:5: 603-623
John E (2014). Upgrading corridor of connectivity, China Daily-Asia Weekly, May 30 – June 5,
page 7
Lohman W (2013). America's Inadequate ASEAN Approach. Retrieved from http://
nationalinterest.org/commentary/americas-inadequate-asean-approach-9050?page=1
Noonari MA (2013) Chinese Involvement in Africa and Its Impact on United States, Asia Pacific
Research Journal of Far East & South East Asia, vol. 31: 97-115
Ming-Te, Hung and Tony Tai-Ting Liu (2012) The Trans-Pacific Strategic Economic Partnership
and Its Implications for China's Role in East Asia Regional Integration', Journal of Contemporary
Eastern Asia, 11(2): 1-12
Aslam M (2013a, Trans-Pacific Partnership Agreement A Strategy Encountering China's
Ascendency in East Asia Regionalism? International Conference: From Hu-Wen to Xi-Li
Administration: China's Leadership Transition and Its Domestic and International Implications
organized by Institute of China Studies, University of Malaya, Kuala Lumpur, 12-13 September
Aslam M (2013) Trans-Pacific Partnership Agreement. A Possible Impact on Malaysia Economy,
Seminar Trans- Pacific Partnership Agreement as a Tool of Development and Economic Growth
in Malaysia, Faculty of Economics and Management, Universiti Pendidikan Sultan Idris, Tanjung
Malim, Perak, 18 September
Aslam M (2014, The US-led Trans-Pacific Partnership Agreement: Implication on ASEAN
and China in East Asian Regionalism, 7th ACAS International Conference, Asian Integration:
History, Contemporary Integrative Efforts, Implications of State Formation and Reconfiguration.
Ateneo de Manila University, Manila, Philippines, 18 July 2014
Monaghan A (2014) China poised to overtake US as world's largest economy, research shows,
The Guardian, 30 April
http://www.theguardian.com/business/2014/apr/30/china-overtake-us-worlds-largesteconomy?
INTCMP=ILCNETTXT3487, accessed 8 May 2014.
Palit A (2012) The Trans-Pacific Strategic Economic Partnership. Will it divide the Asia-Pacific?
No. 6/2012
Ririhena Y (2013). US pivot creates volatility in Southeast Asia. Retrieved from http://www.
thejakartapost.com/news/2013/06/21/us-pivot-creates-volatility-southeast-asia.html
Ronaque Ali Behan and Mughees Ahmed (2013). China-ASEAN Relations: Implications for
U.S. Interests, Asia Pacific Research Journal of Far East & South East Asia, vol. 31: pp:157-165
Shambaugh D (2005) China engages Asia: reshaping the regional order, International Security
(3): 64–99.
Shresta, L Omkar and Aekapol Chongvilaivan (2013) 'Greater Mekong Subregion: From
Geographical Corridors to Socio-economic Corridors', in Greater mekong Subregion.
From Geographical to Socio-economic Integration, (eds) Omkar L. Shresta, and Aekapol
Chongvilaivan, Institute of Southeast Asian Studies (ISEAS), Singapore, pp 1-17.
Storey I (2007) The United States and ASEAN-China Relations: All Quiet on the Southeast
Asian Front, October. Retrieved from http://www.strategicstudiesinstitute.army.mil/pubs/
summary.cfm?q=812
The Sun (2014), Sea row dominated ASEAN summit, May 12, page 8
World Trade Organization (WTO) (2008) 'Factual presentation: Trans-Pacific Strategic Economic
Partnership Agreement between Brunei Darrussalam, Chile, New Zealand and Singapore (goods
and services)', Report by the Secretariat, WT/REG229/1, 9 May.
Wei Ge, (2013). The Chinese Currency and Global Rebalancing: A Discussion
China: An International Journal, 1(1) : 55-74
Yoon, Suk Joon (2014). Chinese version of the Monroe Doctrine, Focus Malaysia, June 14-20,
page 58.
Yokohama Declaration - The Yokohama Vision - Bogor and Beyond , Yokohama, Japan, 13 - 14
Nov 2010 http://www.apec.org/Meeting-Papers/Leaders-Declarations/2010/2010_aelm.aspx
Yuan, Wen Jin, (2012). The Trans-Pacific Partnership and China's Corresponding Strategies, A
Freeman Briefing Report, June, Washington DC.
Zakaria F (2010) A Hedge Strategy Toward China, Washington Post, 15 November.
Zhang JX Xiaohe (2012) Will RMB appreciation reduce trade deficit in the US?, Journal of the
Asia Pacific Economy, 17(1): 171-187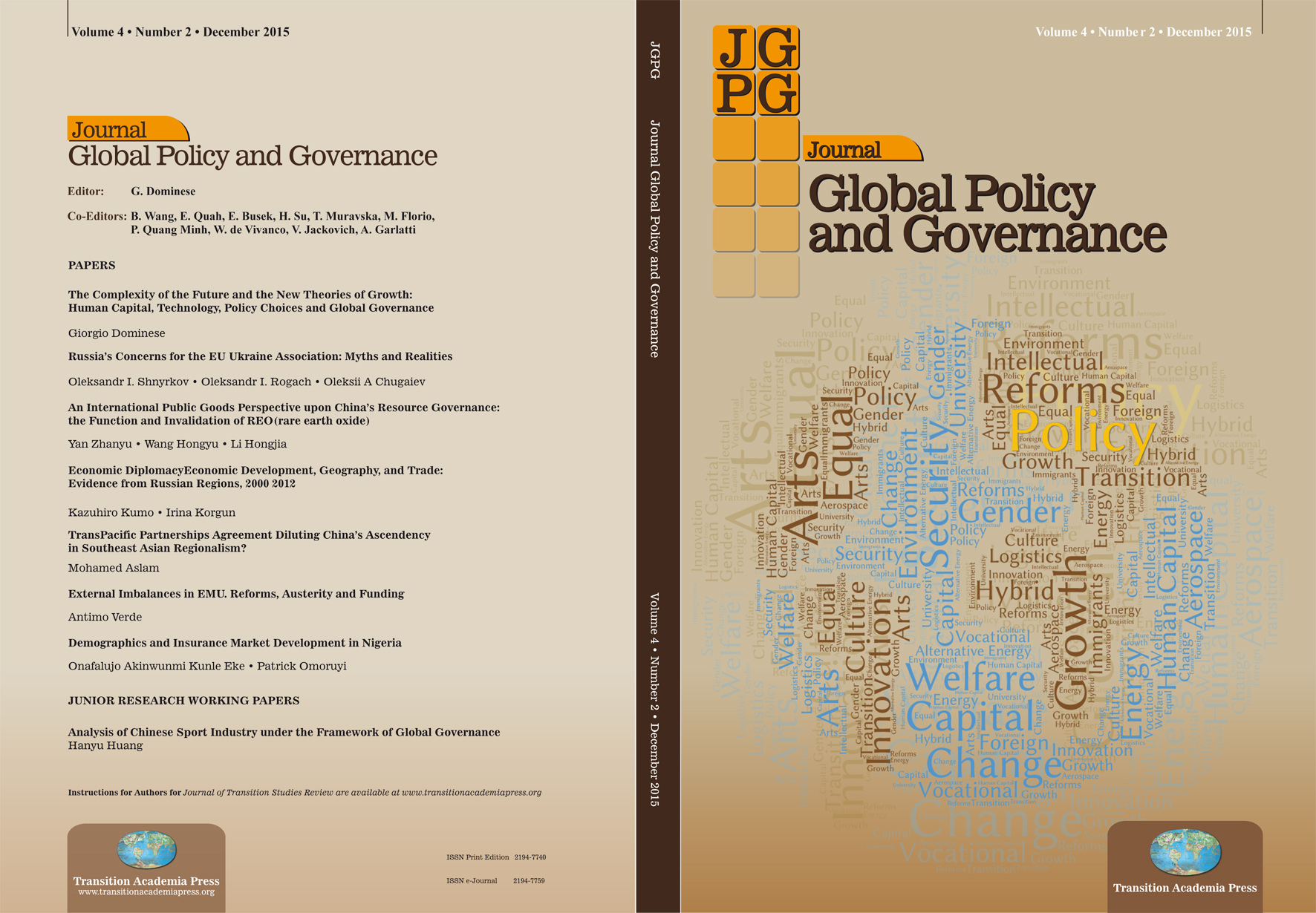 The authors when submitting their papers endorse and give permission as well to the Publisher Transition Academia Press to publish the article/paper in print and/or electronic format. Article/paper is defined as the final, definitive, and citable Version of Record, and includes the accepted manuscript in its final form, including the abstract, text, bibliography, and all accompanying tables, illustrations, data.  
If/when an article is accepted for publication, Author will be asked to transfer copyright of the article to Transition Academia Press. Transition Academia Press will retain copyright of all published material and reserves the right to re-use any such material in any print and/or electronic format. Author willing to retain their copyright from the Editors might request a fair condition, on the base of a bilateral agreement.