Russia's Concerns for the EU-Ukraine Association: Myths and Realities
Keywords:
Economic integration - European integration - Free trade Trade diversion - Third country effect
Abstract
Reaction of Russian Federation to the EU-Ukraine Association Agreement
and the Deep and Comprehensive Free Trade Area (DCFTA) as a part of it is a significant
challenge for Ukraine. A great majority of Russia's concerns can be questioned or
be easily solved by legal instruments. Instead Russia practiced hard negotiations in
a form of economic war against Ukraine. Hypothetical and practical concessions to
Russia related to the Association Agreement implementation are discussed. We pay
special attention to raising competition for Russian exports as a possible motivation
for actions of Russia. The paper studies two possible motivations in details. The first
one is the possibility of increased competitive pressure of Ukrainian exports to the EU
on Russian exports to the EU because of the EU preferential treatment for Ukraine
(competition in the EU market). And the second one is the possibility of increased
competitive pressure of the EU exports to Ukraine on Russian exports to Ukraine
because of Ukraine's preferential treatment for the EU (competition in Ukrainian
market). We compare trade structures of bilateral exports of the three countries to
estimate the possibility of such motivations. Our calculations show that increase in
competitive pressure on Russian exports is rather low. Our research provides the
evidence in favor the presumption that economically the EU-Ukraine DCFTA is only
a minor challenge for the Russian economy, and hard approach to Ukraine is rather a
political decision of Russian authorities. Return to non-confrontation regime can be
mutually beneficial for Ukraine, the EU and Russia.
References
концепції. Бізнесінформ 3:26-32 (Berenda S V (2014) Ekonomichna intehratsiia Ukraiiny v
umovakh realizatsii bipoliarnoii kontseptsii. Biznesinform 3:26-32)
Dabrowski M, Taran S (2012) Is free trade with the EU good for Ukraine? CASE Network
E-briefs No. 06/2012
Експрес онлайн (2015) РФ вимагає відкласти на десятиліття перехід на техрегламенти
ЄС (Ekspres onlain (2015), RF vimahaie vidklasty na desyatylittia perehid na tehreglamenty
ES. http://expres.ua/news/2015/06/05/138518-rf-vymagaye-vidklasty-desyatylittya-perehidtehreglamenty-
yes-zmi/ Accessed 20 July 2015)
Emerson M (2014) Trade policy issues in the wider Europe – that led to war and not yet to peace,
CEPS working document, No. 398
European Atomic Energy Community, European Union, The Member States, Ukraine (2014)
Association Agreement between the European Union and its Member States, of the one part, and
Ukraine of the other part. OJ L 161:3-2137. http://eur-lex.europa.eu/legal-content/EN/TXT/PDF
/?uri=CELEX:22014A0529%2801%29&rid=3 Accessed 17 September 2015
European Commission (2015) Outcome of the Trilateral talks on the implementation of the EUUkraine
Association Agreement / Deep and Comprehensive Free trade Area. Statement 15/4992
Havlik P (2014) Vilnius Eastern Partnership Summit: milestone in EU-Russia relations – not just
for Ukraine. Danube: Law and Economic Review 5:21-51 doi: 10.2478/danb-2014-0002
Європейська правда (2015) Україна привела у відповідність до норм ЄС 30% національних
стандартів (Ievropeiska Pravda (2015) Ukraiina pryvela u vidpovidnist do norm ES 30%
natsionalnykh standartiv. http://www.eurointegration.com.ua/news/2015/05/6/7033540/
Accessed 20 July 2015)
Kulik S, Spartak A, Vinokurov E, Yurgens I (2014) Two integration projects in Europe: dead end
of struggle. MPRA Paper No. 61636. http://mpra.ub.uni-muenchen.de/61636/ Accessed 25 May
Министерство экономического развития Российской Федерации (2015) Алексей Улюкаев:
Россия имеет основания ввести пошлины на товары с Украины, но надеется на решение
спорных вопросов (Ministerstvo ekonomicheskogo razvitiya Rossiyskoy Federatsii (2015)
Aleksey Ulyukaev: Rossiya imeet osnovaniya vvesti poshliny na tovary s Ukrainy, no nadeetsya
na reshenie spornyh voprosov. http://economy.gov.ru/minec/press/news/2015052001)
Oxford Economics (2012) The Impact of an FTA between Ukraine and the EU. Prepared for the
Foundation for Effective Governance.
Правительство РФ (2014) Постановление от 19.09.2014 N 959 "О введении ввозных
таможенных пошлин в отношении товаров, страной происхождения которых является
Украина" (Pravitelstvo RF (2014) Postanovlenie ot 19.09.2014 N 959 "O vvedenii vvoznyh
tamozhennyh poshlin v otnoshenii tovarov, stranoy proishozhdeniya kotoryh yavlyaetsya
Ukraina". http://www.consultant.ru/document/cons_doc_LAW_168881/ Accessed 20 July 2015)
Ruptly (2015) Germany: G7 ready to impose more sanctions on Russia says Obama https://
ruptly.tv/vod/view/29691/germany-g7-ready-to-impose-more-sanctions-on-russia-says-obama
Accessed 20 July 2015
Шнирков О І Економічні наслідки укладання угоди про асоціацію України з ЄС з
урахуванням можливої реакції Росії. Національна безпека і оборона 4-5:141-142 (Shnyrkov
O (2013) Ekonomichni naslidky ukladennia uhody pro asotsiatsiiu Ukraiiny z ES z urahuvanniam
mozhlivoii reaktsiii Rosiii. Natsionalna bezpeka i oborona 4-5:141-142)
Сіденко В Деградація економічних відносин України та Росії: що далі? Національна
безпека і оборона 5-6:92-96 (Sidenko V (2014) Degradatsiya ekonomichnikh vidnosyn
Ukraiiny ta Rosiii: shcho dali? Natsionalna bezpeka i oborona 5-6:92-96)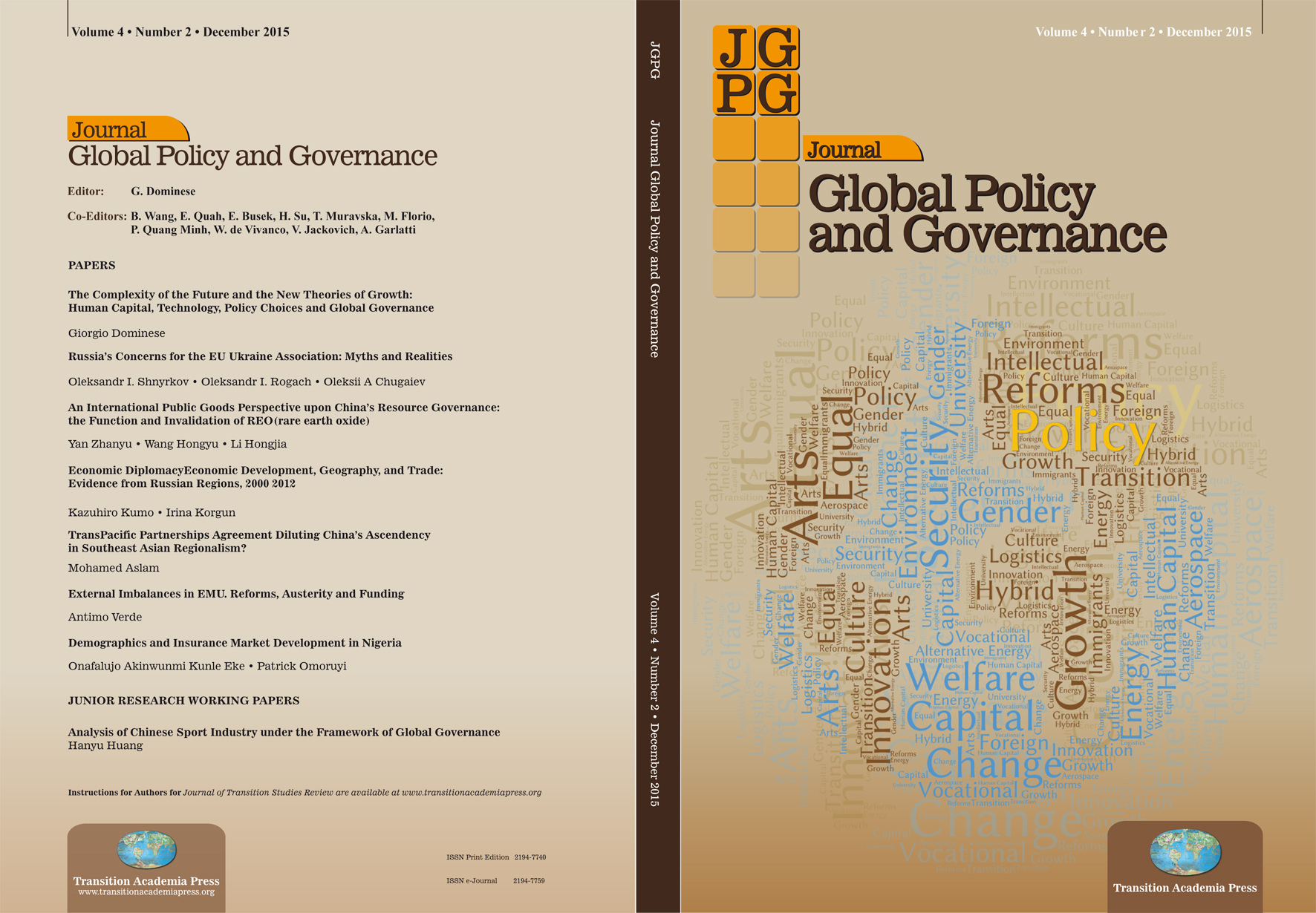 The authors when submitting their papers endorse and give permission as well to the Publisher Transition Academia Press to publish the article/paper in print and/or electronic format. Article/paper is defined as the final, definitive, and citable Version of Record, and includes the accepted manuscript in its final form, including the abstract, text, bibliography, and all accompanying tables, illustrations, data.  
If/when an article is accepted for publication, Author will be asked to transfer copyright of the article to Transition Academia Press. Transition Academia Press will retain copyright of all published material and reserves the right to re-use any such material in any print and/or electronic format. Author willing to retain their copyright from the Editors might request a fair condition, on the base of a bilateral agreement.