A Firm-Level Analyses of the Link Between Innovation Investments and Performance
Keywords:
Firm Performance, Entrepreneurship, Innovation, Organization of Production
Abstract
Our study focuses on the analyses of investments in innovation of enterprises and their performance impact in Albania. We use data from 2019 Enterprise Surveys (ES) to answer the research question and focus on digitalization patterns that characterize Albanian enterprises. The survey was a shared project of the European Bank for Reconstruction and Development (EBRD), the European Investment Bank (EIB), and the World Bank Group (WBG); the data are collected in Albania between January and May 2019. The objective of the ES is to contribute to understanding what firms experience in the private sector. Collected data are based on firms' experiences and enterprises' perceptions of the environment in which they operate.
The dependent variable is the performance of the firms measured in terms of sales growth and labor productivity. In contrast, the vector of independent variables is composed of enterprise characteristics such as firm size, ownership structure, legal status, R&D expenses, access to formal banking services, and gender ownership. Moreover, to capture the innovation investment, we will use the following ES questions: (1) During the last three years, has this establishment introduced new or improved products or services? (2) Did this establishment spend on research and development activities?
Downloads
Download data is not yet available.
References
Arvin, M., & Pradhan, R. (2014). Broadband penetration and economic growth nexus: Evidence from cross-country panel data. Journal of Applied Economics, 35(46), 4360-4369.
Atalay, M., Anafarta, N., & Sarvan, F. (2013). The relationship between innovation and firm performance: An empirical evidence from Turkish automotive supplier industry. Procedia-social and behavioral sciences(75), 226-235.
Bach, T. M. (2019). Relationship between innovation and performance in private companies: systematic literature review. SAGE Open, 2(9), 543-546.
Balla, R. (2020). Digitalization of Financial Services in Albania Under Restricted Measures Covid-19. European Journal of Marketing and Economics, II(3), 17-31.
Christa, U., & Kristinae, V. (2021). The effect of product innovation on business performance during COVID 19 pandemic. Uncertain Supply Chain Management, 1(9), 151-158.
Cirera, X., & Cusolito, A. P. (2019). Innovation Patterns and Their Effects on Firm-Level Productivity in South Asia. 8876: World Bank Policy Research Working Paper.
Clarke, G. R., Qiang, C. Z., & Xu, L. C. (2015). The Internet as a general-purpose technology: Firm-level evidence from around the world. Economics Letters(135), 24-27.
Curraj, E. (2017). Business Digitalization in Albania: Where do SMEs Stand? European Journal of Economics and Business Studies, I(3), 148-152.
Eurostat, O. (2005). The Measurement of Scientific and Technological Activities. Guidelines for Collecting and Interpreting Innovation Data. Oslo: Eurostat.
Feimi, D., Kume, V., & Pulaj, E. (2016). Macro environment and innovation in service sector. The evidence from Albanian context. European Journal of Sustainable Development, 2(5), 134-137.
Ferro, E. (2011). Signaling and Technological Marketing Tools for Exporters. World Bank Policy Research Working Paper 5547, WB.
Gërguri‐Rashiti, S., Ramadani, V., Abazi‐Alili, H., Dana, L. P., & & Ratten, V. (2017). ICT, innovation and firm performance: the transition economies context. Thunderbird International Business Review, I(59), 93-102.
Gosavi, A. (2017). Use of the Internet and its impact on productivity and sales growth in female-owned firms: Evidence from India. Journal of Entrepreneurship, Management and Innovation, II(13), 155-178.
Gunday, G., Ulusoy, G., Kilic, K., & Alpkan, L. (2011). Effects of innovation types on firm performance. International Journal of production economics, 2(133), 662-676.
Hu, X., Danso, B. A., Mensah, I. A., & Addai, M. (2020). Does innovation type influence firm performance? A dilemma of star-rated hotels in Ghana. Sustainability, 12(23), 991-993.
INSTAT. (2020). Innovation activities in enterprises. Republika e Shqipërisë: Instituti i Statistikave.
Kalaj, E., & Merko, F. (2020). Analyses of Financial Obstacles Facing SME-S: Evidence from Albania. Scientific Papers, I(43), 117-121.
Kalaj, E., & Merko, F. (2021). How Digital Are Albanian Enterprises: A Microeconomic Analyses. Scientific Conference on Economics and Entrepreneurship Proceedings (pp. 4-11). Riga: Riga Technical University.
Nielsen, C. (2019). From innovation performance to business performance: Conceptualising a framework and research agenda. Meditari Accountancy Research, Emerald.
Rosenberg, N. (2000). Schumpeter and the endogeneity of technology: some American perspectives. Routledge.
Schumpeter, J. (1942). Capitalism, Socialism and Democracy. Harper Collins.
Shouyu, C. (2017). The Relationship between Innovation and Firm Performance: A Literature Review. . Atlantis-press, 648-652.
UN. (2018). The 2030 Agenda and the Sustainable Development Goals. Santiago: United Nations.
Vyas, S., & Watts, C. (2009). How does economic empowerment affect women's risk of intimate partner violence in low and middle income countries? A systematic review of published evidence. Journal of International Development: The Journal of the Development Studies Association,, 5(21), 577-602.
WB. (2019). Albania 2019 ES Implementation Report. Washington : World Bank.
WB. (2019). Business Reforms in Albania. Washington, DC: World Bank.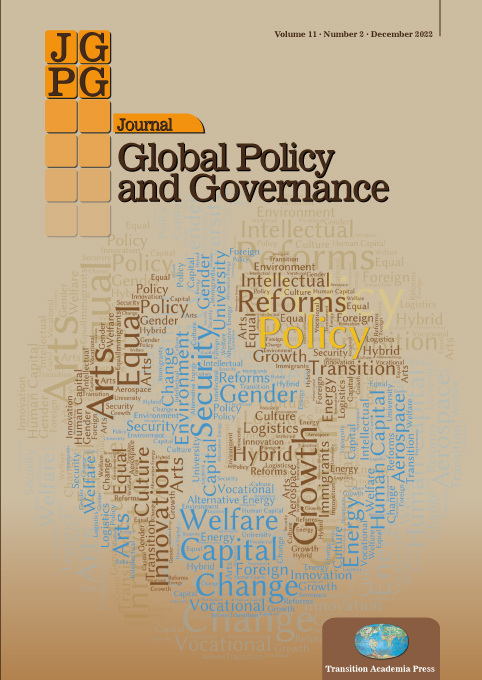 How to Cite
Kalaj, E., Kastrati, A. ., & Bushati, B. (2022). A Firm-Level Analyses of the Link Between Innovation Investments and Performance. Journal Global Policy and Governance, 11(2), 89-100. https://doi.org/10.14666/2194-7759-11-2-005
The authors when submitting their papers endorse and give permission as well to the Publisher Transition Academia Press to publish the article/paper in print and/or electronic format. Article/paper is defined as the final, definitive, and citable Version of Record, and includes the accepted manuscript in its final form, including the abstract, text, bibliography, and all accompanying tables, illustrations, data.  
If/when an article is accepted for publication, Author will be asked to transfer copyright of the article to Transition Academia Press. Transition Academia Press will retain copyright of all published material and reserves the right to re-use any such material in any print and/or electronic format. Author willing to retain their copyright from the Editors might request a fair condition, on the base of a bilateral agreement.