Synergistic effects of Culture and Good Governance on Innovation
A European Union Comprehensive Correlational Approach
Keywords:
Governance, culture, policy, Innovation, strategy
Abstract
Studies on culture and innovation might view their interactions as separate entities, overlooking the potential relations among the cultural dimensions themselves, and their potential synergies and interactions with innovation. Additionally, governance indicators might be treated as independent entities, lacking further country background. Cultural dimensions interact with country governance contexts, which might exert a direct effect between the components of country good governance indicators and cultural dimensions, on innovation.
The present research develops a comprehensive framework by examining the potential synergies among the cultural dimensions and their effect on innovation, as well as the potential synergies among the good governance indicators to foster innovation and the combined effect of cultural dimensions and good governance indicators on innovation. The study builds upon and goes beyond the existing research on the relationship between cultural profiles and country innovation performance while understanding the governance context in which these cultural dimensions are embedded.
Downloads
Download data is not yet available.
References
Acharya, V. V., & Subramanian, K. V. (2009). Bankruptcy codes and innovation. The Review of Financial Studies, 22(12), 4949-4988. https://doi.org/10.1093/rfs/hhp019
Almond, G. A., & Verba, S. (1963). The Civic Culture: Political Attitudes and Democracy in Five Nations. Princeton University Press. http://www.jstor.org/stable/j.ctt183pnr2
Barasa, L., Vermeulen, P., Knoben, J., Kinyanjui, B., & Kimuyu, P. (2019). Innovation inputs and efficiency: manufacturing firms in Sub-Saharan Africa. European Journal of Innovation Management, 22(1), 59-83. https://doi.org/10.1108/EJIM-11-2017-0176
Becker-Blease, J. R. (2011). Governance and innovation. Journal of Corporate Finance, (4), 947-958.
Beugelsdijk, S., Maseland, R., & Van Hoorn, A. (2015). Are Scores on H ofstede's Dimensions of National Culture Stable over Time? A Cohort Analysis. Global Strategy Journal, 5(3), 223-240. https://doi.org/10.1002/gsj.1098
Beugelsdijk, S., & Welzel, C. (2018). Dimensions and dynamics of national culture: Synthesizing Hofstede with Inglehart. Journal of Cross-Cultural Psychology, 49(10), 1469-1505. https://doi.org/10.1177%2F0022022118798505
Blundell, R., & Costa Dias, M. (2000). Evaluation methods for non‐experimental data. Fiscal studies, 21(4), 427-468. https://doi.org/10.1111/j.1475-5890.2000.tb00031.x
Boix, R., Capone, F., De Propris, L., Lazzeretti, L., & Sanchez, D. (2016). Comparing creative industries in Europe. European Urban and Regional Studies, 23(4), 935-940. https://doi.org/10.1177%2F0969776414541135
Boldrin, M., Allamand, J. C., Levine, D. K., & Ornaghi, C. (2011). Competition and innovation. Cato Papers on Public Policy. https://www.cato.org/sites/cato.org/files/serials/files/cato-papers-public-policy/2011/11/cppp.pdf
Černe, M., Jaklič, M., & Škerlavaj, M. (2013). Decoupling management and technological innovations: Resolving the individualism–collectivism controversy. Journal of International Management, 19(2), 103-117. https://doi.org/10.1016/j.intman.2013.03.004
Boubakri, N., Chkir, I., Saadi, S., & Zhu, H. (2021). Does national culture affect corporate innovation? International evidence. Journal of Corporate Finance, 66, 101847. https://doi.org/10.1016/j.jcorpfin.2020.101847
Cox, P. L., Friedman, B. A., & Tribunella, T. (2011). Relationships among cultural dimensions, national gross domestic product, and environmental sustainability. Journal of applied Business and Economics, 12(6), 46-56.
Crosby, M. (2000). Patents, innovation and growth. Economic Record, 76(234), 255-262.
Data.World, (2022). Geert Hofstede Cultural Dimension Retrieved from https: https://data.world/adamhelsinger/geerthofstedeculturaldimension (2022, January 7).
Dutta, S., & Lanvin, B. (2016). The global innovation index 2013: The local dynamics of innovation. https://www.wipo.int/edocs/pubdocs/en/economics/gii/gii_2013.pdf
Economist Intelligence Unit (EIU, 2022). Country Growth and Public Institutions. Retrieved from https://www.eiu.com/n/ (2022, January 7).
European Innovation Scoreboard, (2021). Comparative analysis of innovation performance in EU countries. Retrieved from https://ec.europa.eu/info/research-and-innovation/statistics/performance-indicators/european-innovation-scoreboard_es (2022, January 9).
Fernandez, A. I., Lara, P. R., Ugalde, M. C., & Sisodia, G. S. (2018). Distinctive competencies and competency-based management in regulated sectors: A methodological proposal applied to the pharmaceutical retail sector in Spain. Journal of Retailing and Consumer Services, 42, 29-36. https://doi.org/10.1016/j.jretconser.2018.01.007
Gao, Y., Zang, L., Roth, A., & Wang, P. (2017). Does democracy cause innovation? An empirical test of the popper hypothesis. Research Policy, 46(7), 1272-1283. https://doi.org/10.1016/j.respol.2017.05.014
Gaygısız, E. (2013). How are cultural dimensions and governance quality related to socioeconomic development? The Journal of Socioeconomics, 47, 170-179. https://doi.org/10.1016/j.socec.2013.02.012
Gorodnichenko, Y., & Roland, G. (2011). Which dimensions of culture matter for long-run growth? American Economic Review, 101(3), 492-98. https://doi.org/10.1257/aer.101.3.492
Griffith, R., Harrison, R., Van Reenen, J., (2006). How special is the special relationship? Using the impact of US R & D spillovers on UK firms as a test of technology sourcing. Am. Econ. Rev, 96(5), 1859–1875. https://doi.org/10.1257/aer.96.5.1859
Griliches, Z. (1998). Patent statistics as economic indicators: a survey. In R&D and productivity: the econometric evidence (pp. 287-343). University of Chicago Press. https://www.nber.org/system/files/chapters/c8351/c8351.pdf
Hamilton, A., & Hammer, C. (2018). Can We Measure the Power of the Grabbing Hand? A Comparative Analysis of Different Indicators of Corruption. The World Bank. https://openknowledge.worldbank.org/handle/10986/29162
Han, X., Khan, H. A., & Zhuang, J. (2014). Do governance indicators explain development performance? A cross-country analysis. A Cross-Country Analysis. (ADB Economics Working Paper Series No. 417). Asian Development Bank Economics. https://www.adb.org/sites/default/files/publication/149397/ewp-417.pdf
Hofstede, G. (1980). Culture and organizations. International studies of management & organization, 10(4), 15-41. https://doi.org/10.1080/00208825.1980.11656300
Hofstede, G. (2001). Culture's consequences: Comparing values, behaviors, institutions and organizations across nations. Sage publications.
Holý, V., & Evan, T. (2021). The Role of a Nation's Culture in the Country's Governance: Stochastic Frontier Analysis. Central European Journal of Operations Research, 30, 507–520. https://doi.org/10.1007/s10100-021-00754-5
House, R. J., & Global Leadership and Organizational Behavior Effectiveness Research Program. (2004). Culture, leadership, and organizations: The GLOBE study of 62 societies. Sage Publications.
Hsu, P. H., Tian, X., & Xu, Y. (2014). Financial development and innovation: Cross-country evidence. Journal of Financial Economics, 112(1), 116-135. https://doi.org/10.1016/j.jfineco.2013.12.002
Ibanez, A., & Sisodia, G. S. (2020). The role of culture on 2020 SARS-CoV-2 Country deaths: a pandemic management based on cultural dimensions. GeoJournal, 1-17. https://dx.doi.org/10.1007%2Fs10708-020-10306-0
International Monetary Fund. 2021. The World Economic Outlook Database. Online. https://www.imf.org/en/Publications/SPROLLS/world-economic-outlook-databases/.
Khan, R., & Cox, P. (2017). Country culture and national innovation. Archives of Business Research, 5(2). https://doi.org/10.14738/abr.52.2768
Kaufmann, D., Kraay, A., & Mastruzzi, M. (2005). Governance matters IV: governance indicators for 1996-2004. World bank policy research working paper, (3630). https://openknowledge.worldbank.org/handle/10986/8221
Jameel, A., Asif, M., & Hussain, A. (2019). Good Governance and Public Trust: Assessing the Mediating Effect of E-Government in Pakistan. Lex Localis, 17(2), 299-320. https://doi.org/10.4335/17.2.299-320(2019)
Jankauskas, V., & Šeputienė, J. (2007). The relation between social capital, governance and economic performance in Europe. Business: Theory and Practice, 8(3), 131-138. https://doi.org/10.3846/btp.2007.19
Kaasa, A. (2017). Culture and innovation: Evidence from the European Union and neighbouring countries. Tijdschrift voor economische en sociale geografie, 108(1), 109-128. https://doi.org/10.1111/tesg.12194
Kaufmann, D., Kraay, A., & Mastruzzi, M. (2011). The Worldwide Governance Indicators: Methodology and Analytical Issues1. Hague Journal on the Rule of Law, 3(2), 220-246. https://doi.org/10.1017/S1876404511200046
Kondratenko, V., Okopnyk, O., Ziganto, L., & Kwilinski, A. (2020). Innovation development of public administration: Management and legislation features. Marketing and Management of Innovations, 1, 87-94 http://doi.org/10.21272/mmi.2020.1-06
Lewis, R., 2006. When cultures collide. Boston: Nicholas Brealey.
Lopez-Claros, A., & Mata, Y. N. (2011). Policies and institutions underpinning country innovation: Results from the innovation capacity index. In The innovation for development report 2010–2011 (pp. 3-63). Palgrave Macmillan, London. http://www.innovationfordevelopmentreport.org/papers/101_LopezClaros_Mata.pdf
Mauro, P. (1995). Corruption and growth. The Quarterly Journal of Economics, 110(3), 681-712. https://doi.org/10.2307/2946696
Minkov, M. (2011). Cultural differences in a globalizing world. Emerald Group Publishing.
Mira, R., & Hammadache, A. (2017). Good governance and economic growth: A contribution to the institutional debate about state failure in Middle East and North Africa. Asian Journal of Middle Eastern and Islamic Studies, 11(3), 107-120. https://doi.org/10.1080/25765949.2017.12023313
Morisson, A., & Doussineau, M. (2019). Regional innovation governance and place-based policies: design, implementation, and implications. Regional Studies, Regional Science, 6(1), 101-116. https://doi.org/10.1080/21681376.2019.1578257
Noorderhaven, N. G., & Tidjani, B. (2001). Culture, governance, and economic performance: An explorative study with a special focus on Africa. International Journal of Cross-Cultural Management, 1(1), 31-5. https://doi.org/10.1177%2F147059580111006
Roach, D. C., Ryman, J. A., & Makani, J. (2016). Effectuation, innovation, and performance in SMEs: an empirical study. European Journal of Innovation Management, 19(2), 214-238. https://doi.org/10.1108/EJIM-12-2014-0119
Sayamov, Y. N. (2017). Foresight in worldwide academia enhances global governance of science. International Journal of Foresight and Innovation Policy, 12(1-3), 81-93. https://dx.doi.org/10.1504/IJFIP.2017.085817
Shaffer, J. P. (1991). The Gauss—Markov theorem and random regressors. The American Statistician, 45(4), 269-273. https://doi.org/10.2307/2684451
Shane, S. A. (1992). Why do some societies invent more than others? Journal of Business Venturing, 7(1), 29-46. https://doi.org/10.1016/0883-9026(92)90033-N
Shane, S. (1993a). Cultural influences on national rates of innovation. Journal of Business Venturing, 8(1), 59-73. https://doi.org/10.1016/0883-9026(93)90011-S
Stanig, P., Kayser, M., & Kelvin, L. (2013). Governance indicators: some proposals. In Helmut K. Anheier and Regina A. List (Eds.) Governance Challenges and Innovations: Financial and Fiscal Governance (pp. 189-220). Oxford Scholarship Online. https://doi.org/10.1093/acprof:oso/9780199674930.003.0009
Sun, H. (2009). A meta-analysis on the influence of national culture on innovation capability. International Journal of Entrepreneurship and Innovation Management, 10(3-4), 353-360. https://doi.org/10.1504/IJEIM.2009.025678
Tausch, A., (2017). Towards new maps of global human values, based on World Values Survey (6) data. In Grinin L. E. & Korotayev A. V. (Eds.), History and mathematics: Economy, demography, culture and cosmic civilization (pp. 135-199). Uchitel Publishing House.
The World Bank Group (2022). Worldwide Governance Indicators. Retrieved from http://info.worldbank.org/governance/wgi/#home (2022, January 7).
Unceta, A., Castro-Spila, J., & Garcia Fronti, J. (2017). The three governances in social innovation. Innovation: The European Journal of Social Science Research, 30(4), 406-420. https://doi.org/10.1080/13511610.2017.1279537
Veiga, P. M., Teixeira, S. J., Figueiredo, R., & Fernandes, C. I. (2020). Entrepreneurship, innovation and competitiveness: A public institution love triangle. Socio-Economic Planning Sciences, 72, 100863. https://doi.org/10.1016/j.seps.2020.100863
Veugelers, M., Bury, J., & Viaene, S. (2010). Linking technology intelligence to open innovation. Technological forecasting and social change, 77(2), 335-343. http://dx.doi.org/10.1016/j.techfore.2009.09.003
World Intellectual Property Organization: WIPO IP Statistics Data Center. Retrieved from https://www3.wipo.int/ipstats/index.htm?lang=en (2022, January 5).
Yeh, R. S., & Lawrence, J. J. (1995). Individualism and Confucian dynamism: A note on Hofstede's cultural root to economic growth. Journal of international business studies, 26(3), 655-669.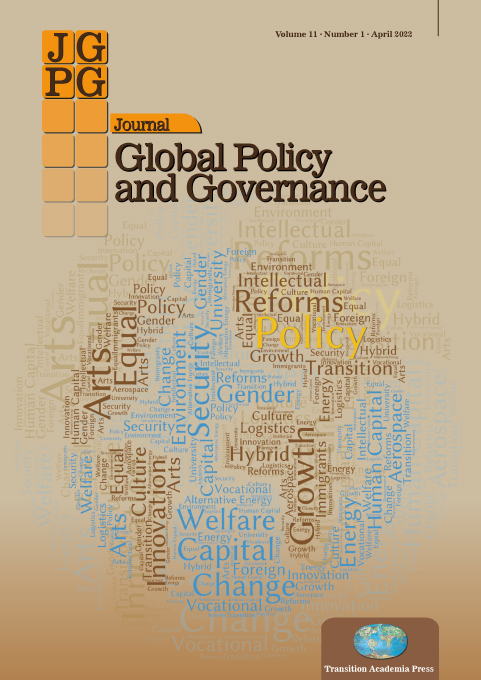 The authors when submitting their papers endorse and give permission as well to the Publisher Transition Academia Press to publish the article/paper in print and/or electronic format. Article/paper is defined as the final, definitive, and citable Version of Record, and includes the accepted manuscript in its final form, including the abstract, text, bibliography, and all accompanying tables, illustrations, data.  
If/when an article is accepted for publication, Author will be asked to transfer copyright of the article to Transition Academia Press. Transition Academia Press will retain copyright of all published material and reserves the right to re-use any such material in any print and/or electronic format. Author willing to retain their copyright from the Editors might request a fair condition, on the base of a bilateral agreement.