Impact Channels of Currency Regulation on Economic Growth: the Case of Armenia
Keywords:
currency policy, exchange rate, economic growth, models of the relationship between currency policy and economic growth
Abstract
The most important result of macroeconomic regulation is to achieve long-term sustainable economic growth. However, often emerging markets prefer short-term objectives at the expense of long-term results, which in the long term, usually, affects the level and quality of life in a country. At the same time, the mechanisms of macroeconomic regulation imply a long-term strategy for economic development, including in the area of monetary policy. Currency regulation in this aspect also plays an important role in ensuring sustainable rates of economic growth. The case of Armenia in terms of the impact of currency policy on economic growth is of particular interest. This article is devoted to the analysis and assessment of the impact channels of currency regulation on the economic growth rates in Armenia over the past decades.
References
Distribution of the Estimators for Autoregressive Time Series with a Unit Root Author(s): David A. Dickey and Wayne A. Fuller Source: Journal of the American Statistical Association, Vol. 74, No. 366 (Jun. 1979), pp. 427- 431.
Sandoyan E., Voskanyan M., Galstyan A. Assessment of key factors of the foreign exchange rate formation in Armenia. Finance: Theory and Practice. Т.22, №5`2018 Pp. 27-39
Сандоян Э.М. Перспективы выбора альтернативных подходов к политике валютного регулирования в Армении Международный научно-практический журнал "Вестник финансового университета"- Москва, Том 21, N 1, 2017
Э.М. Сандоян, М.А. Восканян. Валютное регулирование в Республике Армения: проблемы и перспективы развития. По материалам семинара на тему «Политика валютного регулирования в РА: проблемы и перспективы развития»: Российско-Армянский университет (19 октября 2016г.)/ Под редакцией Э.М. Сандояна, М.А. Восканян. – Ер.: Изд-во РАУ, 2017. – 44с.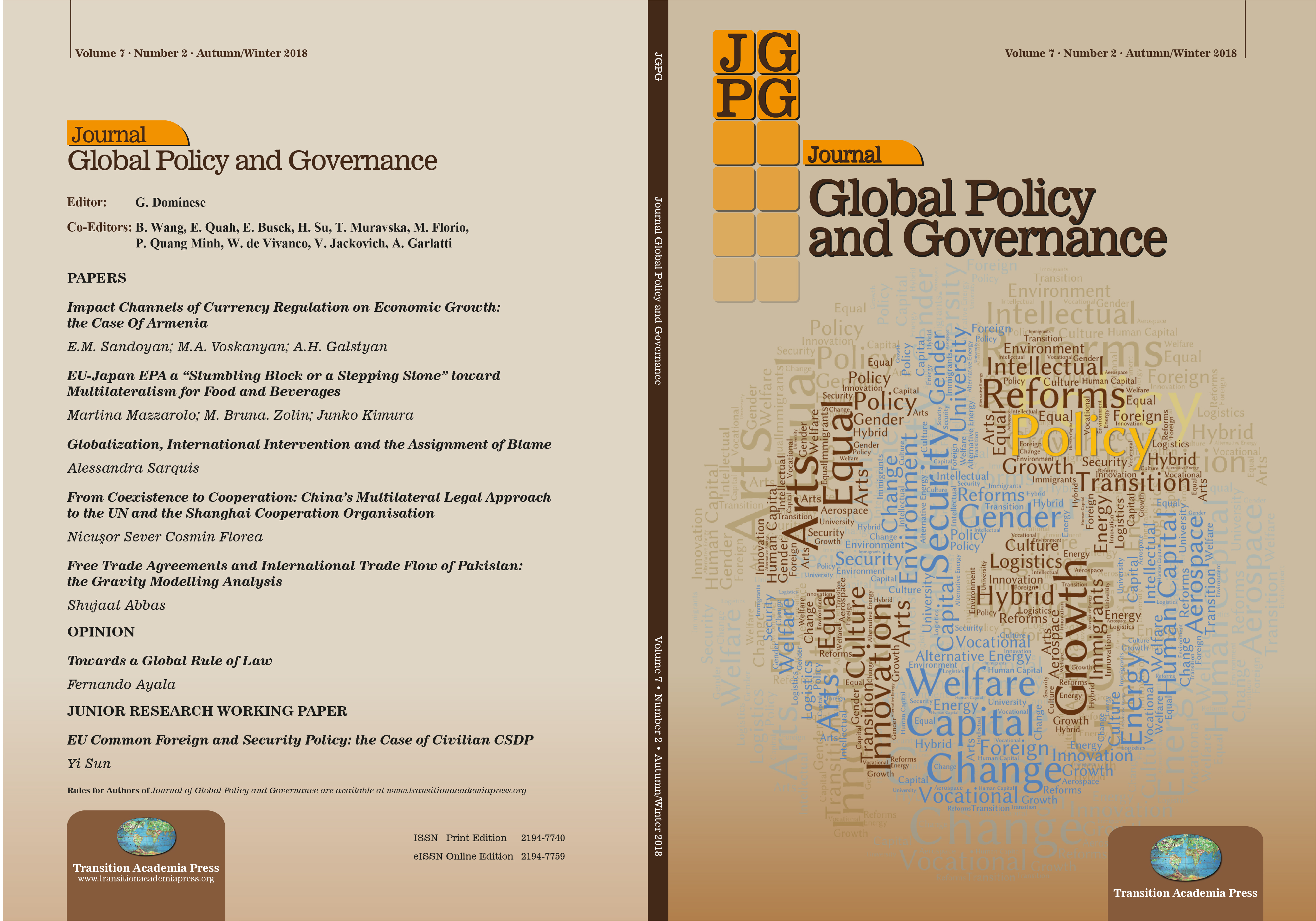 The authors when submitting their papers endorse and give permission as well to the Publisher Transition Academia Press to publish the article/paper in print and/or electronic format. Article/paper is defined as the final, definitive, and citable Version of Record, and includes the accepted manuscript in its final form, including the abstract, text, bibliography, and all accompanying tables, illustrations, data.  
If/when an article is accepted for publication, Author will be asked to transfer copyright of the article to Transition Academia Press. Transition Academia Press will retain copyright of all published material and reserves the right to re-use any such material in any print and/or electronic format. Author willing to retain their copyright from the Editors might request a fair condition, on the base of a bilateral agreement.