Towards Continental Integration in Africa: Examining the capacity of the African Union Commission (AUC) Institution as a facilitating Tool
Keywords:
Integration, Functionalism, Neo-functionalism, Inter-governmentalism, Supranationalism
Abstract
This paper is an exploratory attempt to determine the capacity of the African Union Commission (AUC) as an organ of the African Union (AU) in facilitating the integration aspirations of African leaders on the continent. Considered a strategic organ of the AU, this study sets to examine the integrative capacity of the AUC and its ability to sensitise not only African leaders, but also wealthy Africans, notably in the private sector, to pool resources to catalyze efforts towards integration of the continent. This paper proceeds from the premise that, in post-colonial Africa, leaders of newly independent countries became increasingly associated with the idea of integration, and believes that with it, the quest for development on the continent would be facilitated. The authors predicated this inquiry on available and accessed literature to determine a departure from previous studies on integration in Africa and also provides a theoretical framework. This paper notes that at independence, some visionary African leaders foresaw a need for integration as a mechanism for realizing the lofty goals and expectations of the population. These include, good governance – embedded in the principle of rule of law – respect for human rights; provision of security and improvement in the standard of living, all aimed at fostering unity and integration on the continent. Unfortunately, the current situation, with respect to the socio-economic and political well-being of the peoples on the African continent is far from these envisaged results after several decades of political independence. The authors noted scholars' acknowledgement that African's integration efforts over the years have not yielded clearly noticeable and significant success especially with the emergence of challenges of widespread poverty, political misrule resulting in unbridled corruption, endemic diseases, and the sit-tight syndrome of African leaders. Furthermore, it is a generally held view that the pursuit of an integration strategy as a way to facilitate the realization of the objectives of African leaders in meeting the expectations of their peoples has not yielded satisfactory outcomes. The authors viewed the AUC as an organ that plays an interventionist role through policy advocacy which proposes and recommends policies and programmes for the consideration of African leaders during their plenary sessions towards pursuing their integrative goals. The study submits that, if accorded a near-supranational status, the AUC has the potency to galvanise resources and support to facilitate the desired integration of the African continent.
References
African Union Constitutive Act, (2002) African Union Statutes, Article 20, Structure of the African Union Commission, accessed online at, http://www.au2002.gov.za/docs/summit_council/statutes.pdf.
African Union Foundation, (2013) The 21st Ordinary session of the Heads of States and Government approved the establishment of an African Union Foundation to accommodate the private sector; individuals and any other voluntary donations towards the financing of the African development priorities, accessed online at, http://africamunionfoundation.org/.
African Union Commission Website, http://www.au.int/en.commission
Adisa J, Agbaje A, (1986) Africa's Strategic Relationship with Western Europe: The Dispensability Thesis, in Sesay, A, Africa and Europe (ed), (Croom Helm Ltd, Kent.
Cini M (2012) Intergovernmentalism in European Union Politics, 3rd Edition, (Oxford University Press, 2010).
Duodou C (2012) From OAU to AU, New African Magazine, http://www.newafricanmagazine.com/index.php?option=com_k2&view=item&id=418:from-oau-to-au.
Garza CD (2006) International Integration theories, Regional Scenarios, available online at, http://diigeo.files.worldpress.com/2006/08/international-integration-theories, (2006).
Haas EB (1964) Beyond the Nation-State: Functionalism and International organisation, Stanford CA, (Stanford University Press.
Hestermeyer H (2002) African Union replaces organisation of African Unity, German Law Journal, Review of Developments in German, European and International Jurisprudence, http://www.germanlawjournal.com/index.php?page ID=11&ID=173.
Maruping M (2005) Challenges for Regional Integration in Sub-Saharan Africa: Macroeconomic Convergence and Monetary Co-ordination, Africa in the World Economy, The Hague, available on line at www.fondad.org.
Martin G, (2002) Africa in World Politics: A Pan-African Perspective, New Jersey, (Africa World Press, Inc.
Maasho A (2012) South African elected first female AU Commission, Reuters news (Mail & Guardian), accessed online at, http://www.reuters.com/article/2012/07/15/u-africa-au-commission-1dUSBRE86EOGL20120715.
Mitrany D (1966) A Working Peace System, Chicago, Quadrangle.
Qobo M (2007) The Challenges of Regional Integration in Africa- In the context of globalisation and the prospects for a United States of Africa, (Institute of Security Studies, Paper 145, Pretoria.
Rivkin A (1963) The African Presence in World Affairs: National Development and Its Role in Foreign Policy, USA, (Massachusetts Institute of technology, 1963).
Schmitter PC (2002) Neofunctionalism, in Wiener, Antje and Thomas Diez, (eds), European Integration Theory, Oxford: (Oxford University Press, 2002).
Schuman R (1950) Fondation Report, available at - http://www.robert-schuman.eu/en/doc/questions-d-europe/qe-204-en.pdf,
Spradley J (1979) The ethnographic interview, Forth Worth, Harcourt, (Brace Javonich College Publishers.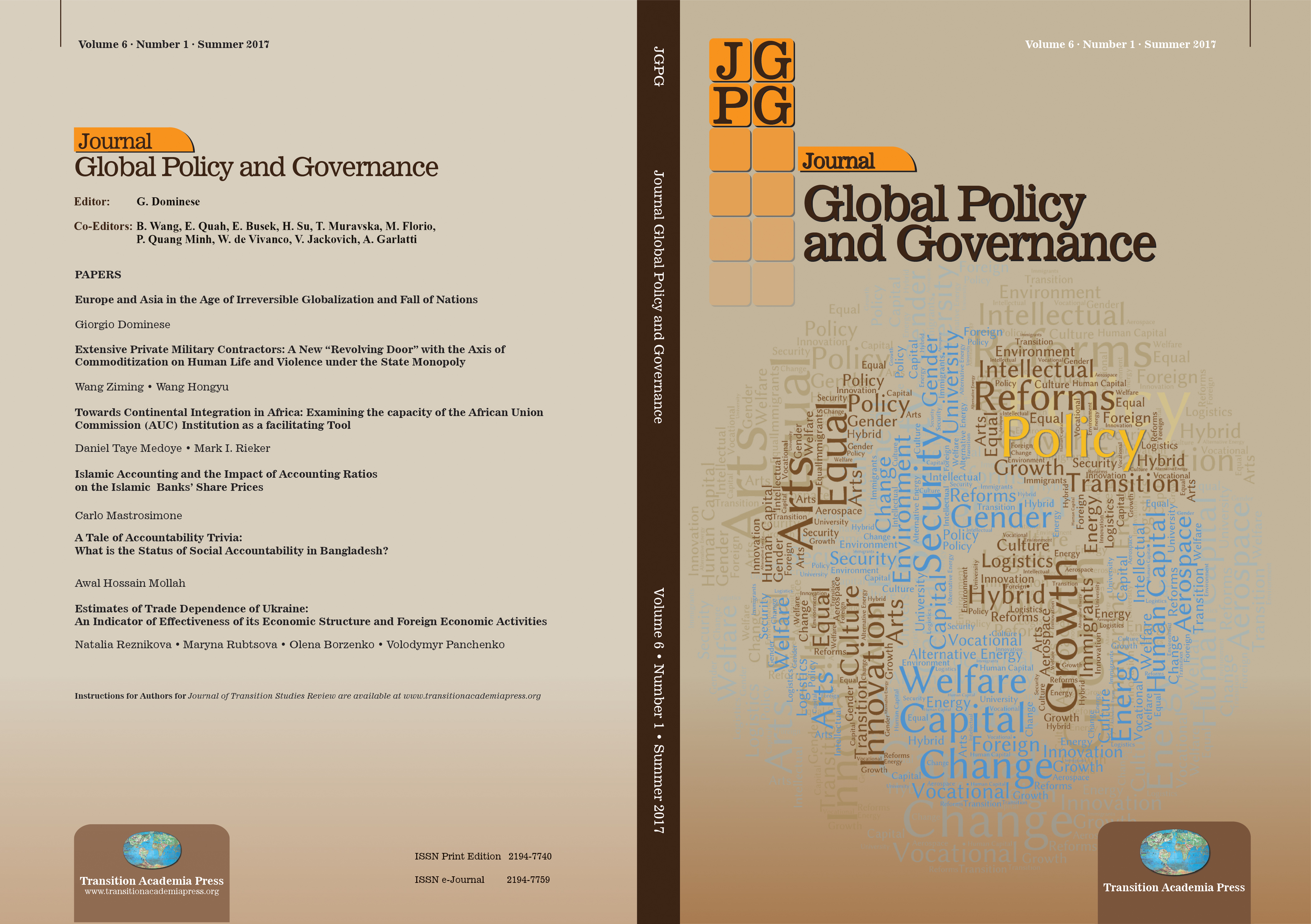 The authors when submitting their papers endorse and give permission as well to the Publisher Transition Academia Press to publish the article/paper in print and/or electronic format. Article/paper is defined as the final, definitive, and citable Version of Record, and includes the accepted manuscript in its final form, including the abstract, text, bibliography, and all accompanying tables, illustrations, data.  
If/when an article is accepted for publication, Author will be asked to transfer copyright of the article to Transition Academia Press. Transition Academia Press will retain copyright of all published material and reserves the right to re-use any such material in any print and/or electronic format. Author willing to retain their copyright from the Editors might request a fair condition, on the base of a bilateral agreement.